Petersburg

To Preserve The Battlefield As The Veterans Consecrated It
Cooperation among the Veterans
Presented to
A. P. Hill Camp
United Confederate Veterans
by
Members of the Massachusetts State Delegation
attending the Dedication of the
Massachusetts Monument
Petersburg, Virginia
Sept 13, 1911
United States Code
TITLE 16 - CONSERVATION
CHAPTER 1 - NATIONAL PARKS, MILITARY PARKS, MONUMENTS, AND SEASHORES
SUBCHAPTER LX - NATIONAL MILITARY PARKS U.S. Code as of: 01/22/02
Section 423. Petersburg National Battlefield; establishment In order to commemorate the campaign and siege and defense of Petersburg, Virginia, in 1864 and 1865 and to preserve for historical purposes the breastworks, earthworks, walls, or other defenses or shelters used by the armies therein, the battle fields at Petersburg, in the State of Virginia, are declared a national battlefield whenever the title to the same shall have been acquired by the United States by donation and the usual jurisdiction over the lands and roads of the same shall have been granted to the United States by the State of Virginia - that is to say, one hundred and eighty-five acres or so much thereof as the Secretary of the Interior may deem necessary in and about the city of Petersburg, State of Virginia.
People from both North and South came together to preserve the Battlefield then, and are doing so now as well. For more information on what concerned citizens are trying to do to help the Battlefield, see Friends of the Petersburg Battlefield.
---
Memorial Day Ceremonies Held at Poplar Grove and City Point National Cemeteries 1891-1915
All information taken from the "Petersburg Index,"
except as noted in ( ) and
* Comments or other sources.

May 30, 1890-Phil Kearney GAR Post of Richmond invited by A.P. Hill Camp [United Confederate Veterans] to escort them through Petersburg...to Poplar Grove (National Cemetery)...present was Miss E. Van Lew...Col. Dan A Grosvenor's, of Ohio address..."and if the people of the great commonwealth of Virginia, the mother of states and presidents, desires to do honor to one of her noblest sons, a man than whom no braver ever lived, a Christian gentleman, a peerless soldier of renown, let her people erect an enduring monument in the capital of their state, to the "noblest Roman of them all," General George H. Thomas..." (this may have what led to the naming of the GAR Post in Petersburg as the
George H. Thomas)
May 30, 1891-There was a ceremony at the Poplar Grove National Cemetery, but there is no mention of a GAR Post being present. (This may have been what led to the forming of the George H. Thomas GAR Post 45 of Petersburg on June 22, 1891.)
June 22, 1891-A meeting of soldiers and sailors in this vicinity (Petersburg) was held at the *Albemarle Hotel at 3 o'clock. Robert McIntyre was called to chair, and E. L. Grant acted as secretary. It was unanimously determined to organize a (GAR) post at once. A committee of Col. E. R. Brink, Col. J. D. Youngblood, J. H. Lowry, and Robert McIntyre were appointed to make arrangements to have the post mustered in. Thanks to Mr. Brown, the proprietor of the hotel for the use of the room.
May 30, 1892-(first use of the name George H. Thomas Post 45 GAR, and first time they held ceremonies at Poplar Grove National Cemetery) All Union and Confederate graves received a floral tribute. Col. C. T. Willis invited to speak..."You might ask me why am I here today, being an ex-Confederate soldier. I would answer you all by saying that I fought through the war,and today stand before you as one as true to the Stars and Stripes as any on this ground, and should the occasion ever arise to call this country to arms, each and every ex-Confederate would respond as readily to defend that flag, as did those who are buried here. Today we know but one country and we proclaim it to the world, right or wrong, our country."...The exercises at City Point (national cemetery) were held by the Phil Kearney Post of Richmond.
1893-no paper

1894-Poplar Grove and City Point ceremonies held under the auspices of the G. H. Thomas Post GAR...The graves of the Union and Confederate all received a tribute, no distinction having been made as to which of the dead wore the blue or the gray.1895-Thomas Post GAR to hold ceremony at Poplar Grove (no mention about City Point)...At the request of Major H. H. Shaow, of Portland, Maine, who a few years ago purchased a tract of land near Fort Steadman in Prince George County, upon which he erected a monument to the memory of the federal soldiers who were killed in battle on this field, this monument will be decorated with flowers tomorrow by the members of the George H. Thomas Post. These grounds are in charge of A. W. Burgess, Adjutant of this Post.
1896-Thomas GAR Post at Poplar Grove...addresses by ex-Gov. William E. Cameron, also Gen. C. A. Battle of the Army of Northern Virginia. This ended Decoration Day with the Thomas Post, GAR. Exercises at City Point...Two wagon loads of colored people with a band of music headed west from here (Poplar Grove) to take part in the exercises at City Point.
1897-Poplar Grove ceremony was held under the auspices of the George H. Thomas Post, GAR. Gov. Cameron and Gen. Cullen A. Battle to speak again. Two colored military companies paraded. Salutatory exercises by the Thomas Post, GAR, T. P. Shurett, Chaplain. Address by Rev. O. S. Bunting and Mr. James T. Rahilly. Yesterday was also the colored people's Memorial Day and was observed by a parade in the afternoon of the 2nd Battalion Colored Virginia Volunteers, and
the different colored civic societies. At the colored cemetery in Blandford, an oration was delivered by A. W. Harris, there was an immense crowd in attendance.
1898-Poplar Grove under the auspices of the Thomas Post, GAR...At City Point (first mention of this post, so it must have been formed sometime prior to this date) under the auspices of the Col. Steadman Post (Colored) GAR...attended by about one thousand white and colored people. Ceremonies were conducted by Commander John George...and ex-Commander D. B.Gorish of Petersburg, also Rev. Wallace, H. W. Clayton, G. D. Wilson.
1899-Poplar Grove...Mr. J. Youngblood of the George H. Thomas Post, GAR, presided...The exercises at City Point were largely attended and a colored GAR (Col. Steadman) Post of this place left here this morning to take part in the exercises.
1900/1901-(Either they didn't have the papers for these dates, or I forgot to write down the information)
1902/1903-Poplar Grove...GAR present (no mention of a Post by name)
1904-Ceremony at Poplar Grove (but no mention of GAR at all)
1905/1906-(skipped past these years)
1907-(no mention of ceremony at Poplar Grove or City Point)
1908-Ceremony at Poplar Grove and City Point (no mention of GAR). The exercises at City Point were participated in by the Colored Veterans of the Spanish American War.
1909-1914 (skipped past these years)
1915-Superintendent J. W. Bradley of the Poplar Grove National Cemetery has arranged the program.

*(The Albemarle hotel was located on the SW corner of Washington & Union. It was originally known as Moss's Tavern, and enlarged and bought by John Jarratt in 1839, and called Jarratt's Hotel. Among those entertained at Jarratt's were President Polk, Stephan A. Douglas, and General Beauregard. In November 1865, General Grant, in civilian dress, had breakfast here. Jarratt's as early as 1866 issued the first guide book to the near by fortifications and battlefields. I believe it was bought after the war by a former Union army officer, and sometime after this the name was changed to the Albemarle Hotel. The hotel was
razed in 1902.)
---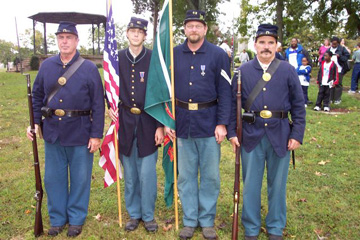 September, 2004, more Yankees supporting the Petersburg Battlefield.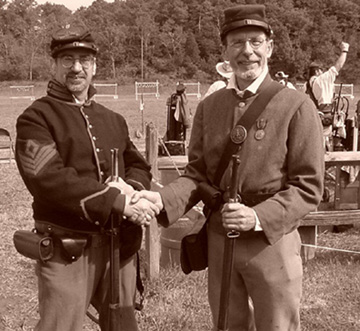 Union and Confederate cooperation continue today
10th Mass Btty and 3rd Virginia Inf
Back to Main page
|
Status
| Cooperation | History |
Visit
|
Resources